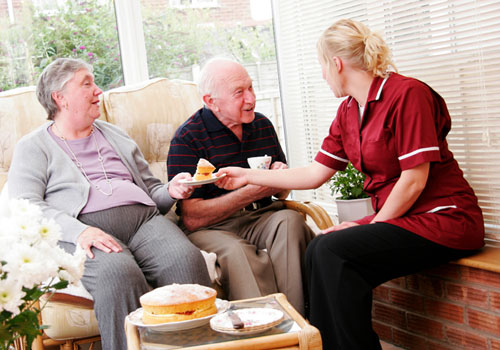 We provide aged care services in the community. Our staff are professionally trained, experienced and communicate with clients effectively. We cover a range of services below:
Domestic Assistance
Respite services
Personal care
Social support
Transport
Meal preparations
Medication
Community high care nursing services
Personal Care
Starting your day feeling refreshed and confident is one way you can feel good about yourself and boost your sense of well being. Our personal care support at home helps you feel confident about your personal hygiene and grooming. Taking a shower, grooming, getting dressed or undressed and using the bathroom are things we take for granted. But they can be more difficult as we get older, or after hospitalization or an illness.
Rubies Nursing Care Workers and Nurses can safely help get you:
In and out of bed
Dress and undress
Manage your fastenings
Put on your compression stockings
Have a shower or shave
Use the bathroom or toilet.
You decide how much or how little care and support you need. We know even a little bit of help can make all the difference to how you feel about life.
Community High Care Nursing
Our nursing services focus on your needs. We work with all you doctors, hospitals, specialists, nursing and allied health staff. You may be surprised by the wide variety of nursing support we can provide in your own home. Our experienced nursing staff includes Clinical Nurse Specialists, Registered Nurses, Endorsed Enrolled Nurses, Enrolled Nurses and Assistants in Nursing.
Confidence and excellence
When you first meet a Rubies Nurse you'll find their professional confidence and commitment to excellence a source of inspiration and strength. Knowledge and years of experience, the sense of calm of someone who has supported others, just like you, will inspire your confidence.
Bright and passionate people
Rubies Nurses are committed to making your experience of home health and wellbeing care an opportunity to enrich your quality of life and reconnect you to your life's passion. Our nursing care services include:
Comprehensive nursing assessments
Early intervention and health and lifestyle coaching
Chronic disease management such as diabetes, heart disease, respiratory disease
Post acute care
Palliative and end of life care
Private in hospital nursing
Medication management, including injections
Vital sign monitoring, training and education about blood pressure, blood sugar, oxygen saturation, temperature, weight and more
Wound care such as postsurgical wounds, leg ulcer management, pressure area care, vacuum assisted wound healing and dressing selection
Enteral nutrition, nasogastric and PEG feeds
Continence care including catheters and product selection
Bowel care such as administration of suppositories or enemas
Stoma and colostomy care and product selection.
Domestic Assistance
We can make life at home easier by helping with any jobs you struggle with, such as cleaning, washing, ironing and dusting and other household chores. We make life easier in the kitchen, by washing dishes, wiping down the benches, fridge and appliances. Sweeping and mopping the floor. Cleaning out the fridge, cupboards and microwave. We can clean your shower, vanity and toilet and leave the floors clean and dry. We can make the bed with freshly laundered sheets, dust and vacuum the floor, leaving the room just the way you like it. Or you may like help with the laundry, light gardening, and preparing meals, shopping or assistance with your annual spring clean.
Social Support
Our social support services give you a way to connect with your life's passion through group social and recreational activities or to spend time with our Home Care team so you never feel socially isolated. Maintaining a healthy lifestyle includes having connections and relationships with other people, sharing stories and participating in community life. Connecting socially friendship, a sense of belonging and shared experiences revitalizes everyone. We can help you look for opportunities to enrich your quality of life within your local neighborhood. Our social support services include:
Accompanied shopping, bill paying, banking
Transport to social and spiritual activities such as your local club, your local markets and your church
Having a home visit from one of our workers to talk or share interests such as music, gardening, world events
We can help broaden your horizons using one of the world's easiesttouse computers to safely and securely connect with new communities from the comfort of your own home.
You can take part in:
Outings;
Sporting groups;
Support groups;
Camps; and
Social activities.
You can choose to have us visit and spend time with you at home or while you are on holidays, so that your carer and family can have break from the caring role. We can help you take part in activities happening in your local community. We operate seven days a week, 24 hours a day so we can be available when it suits you.
Call us today on 1300 651 649 for further information or use our contact form.